Programme Sophia Research Days 2022 (April 21st and 22nd )
"Come Together"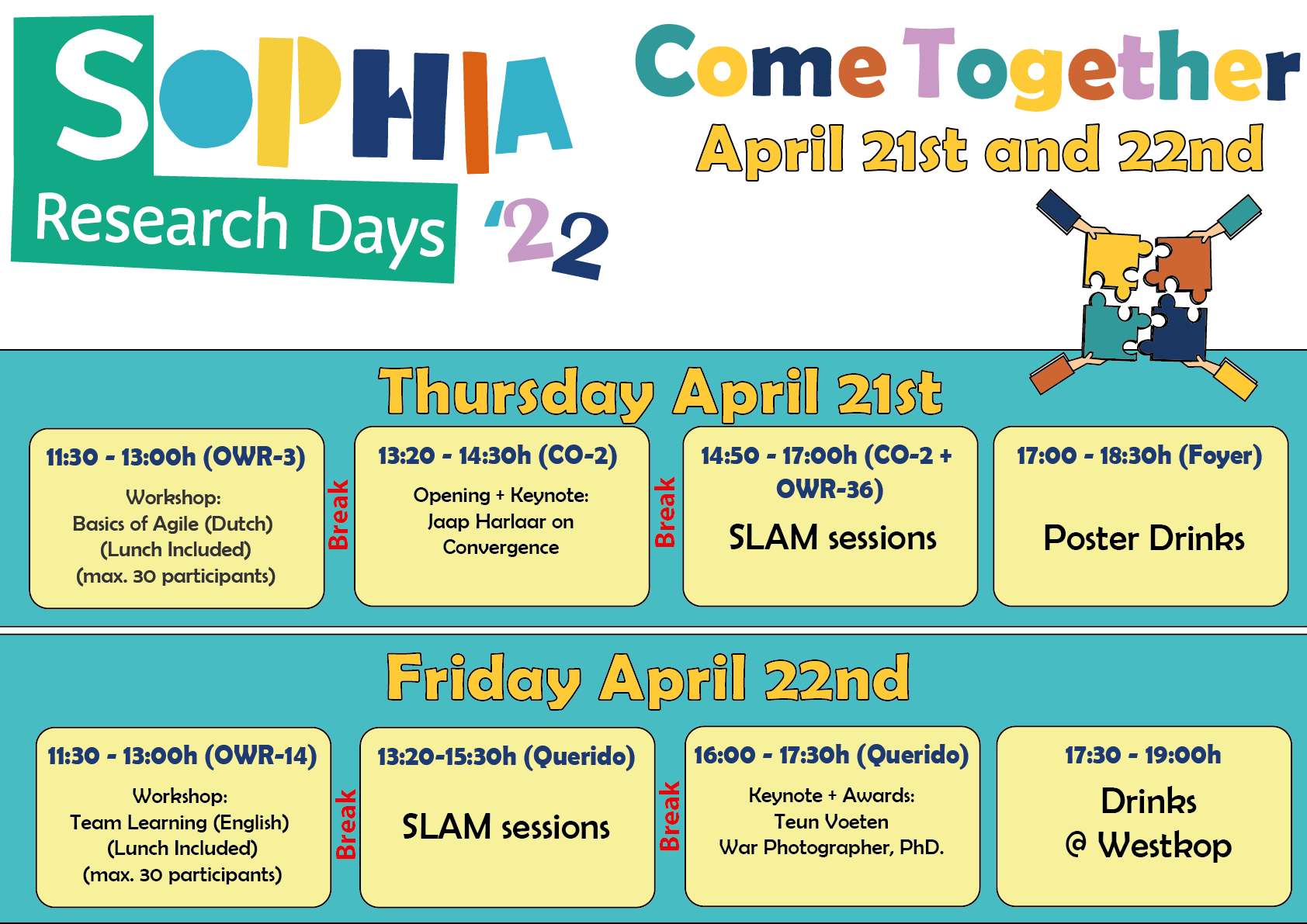 ---
Thursday 21 April 2022 (Chairwoman: Manon Hillegers)
Thursday 21 April 2022: On Thursday, the main programme will start at 13:00 and end at around 18:30. The day will be kicked of by an introduction by Stefan Sleijfer, the chairman of the Board of Governors of Erasmus MC and dean of the Faculty of Medicine and Health Sciences. After which, Professor Jaap Harlaar will provide us with a keynote. Manon Hillegers, head Paediatric Psychiatry, will be Chairwoman of the Day. During the day, researchers will present their research in SLAM sessions. At the end of the day, there will also be a poster presentation for some more research, complete with a few drinks.
Friday 22 April 2022 (Chairman: Edmond Rings)
Friday 22 April 2022: On Friday, the main programme will run from 13:00 to 17:30. The day will be opened by Edmond Rings, the head of the Pediatrics department. He will be Chairman of the Day as well. The programme consists of several SLAM presentations and will end with a lecture by Teun Voeten, a commemorated war photographer. After the main programme, you are more than welcome to join for drinks at "Westkop" (a 3 minute walk from the Erasmus MC)
Keynote speech
On both days, there will be a keynote speech. On Thursday, Jaap Harlaar will give a lecture on Convergence, the cooperation between the Erasmus University, Erasmus MC, and the TU Delft. On Friday, Teun Voeten will give a lecture on his work as a war photographer. For more information on the speakers, go to Event - Keynote Speakers
Workshops
Workshops: On both days there is the possibility to join for a lunch workshop. On Thursday, the workshop will be held in
Dutch
. On Friday, it will be in
English
. Both will start at 11:30 and end at 13:00. Spots for both workshops are limited (30 spots per workshop), and lunch will be served during both workshops. If you have any dietary wishes, please let us know on the comment box in your registration form.
Thursday Workshop: Basics of Agile (Only in Dutch)
Onderzoekers managen vaak vele projecten. Projectmanagement hebben de meesten echter nooit geleerd terwijl hier inmiddels veel kennis over is en veel gebruiksvriendelijke tools voor bestaan. In het bedrijfsleven wordt hiervoor vaak gebruik gemaakt van de Scrum- en Agile-methodieken. Ontstaan in de softwareontwikkeling om met multidisciplinaire teams samen te werken, van elkaar te kunnen leren en snel te kunnen schakelen bij ontwikkelingen, worden ze inmiddels breed toegepast. Het wordt gekenmerkt door een flexibele houding en een kneedbare manier van denken.
Het gebruik van scrum boards, meetings om feedback te geven, en het werken in multidisciplinaire teams zijn allemaal sleutelelementen in deze manier van teamwork. Tijdens deze workshop zullen we de basis leren van Agile en Scrum en op een interactieve manier zelf aan de slag gaan. We zullen de verschillende fasen in onze eigen onderzoekprojecten in kaart brengen met behulp van scrumboards en leren hoe we die kunnen gebruiken om alle spelers in onze multidisciplinaire teams op een lijn te houden of te krijgen. Leyla Sanati en Karen Setz zijn beiden werkzaam in het Sophia als Adviseur Project- en Procesoptimalisatie, onder andere in de capaciteitsplanning. In hun teams maken ze al jaren gebruik van de technieken van Scrum en de mindset van Agile. Zij zullen ons in deze workshop leren hoe je de samenwerking in een klinische studie, een multidisciplinaire paper, of een gehele promotie beter kan organiseren.
Friday Workshop: Team Learning (English)
Stephanie Meeuwissen (AIOS internal medicine) gives a workshop on how working together can help you achieve your goals. She obtained her PhD in 2021 with a thesis entitled "Team learning at work: Getting the best from interdisciplinary teaching teams and leaders". This research investigated how interdisciplinary teacher teams, comprising teachers from a variety of backgrounds (e.g. clinical, basic and social sciences), share, explain, and exchange knowledge between colleagues when working on integrated health professions education. The research studied teams responsible for integrated education through the lens of team learning. Team learning is about the interaction taking place in a team, and describes the behaviours team members exhibit in their efforts to understand and integrate each other's knowledge and experiences. The study identified three team approaches with varying levels of team learning; the teams that demonstrated high levels of team learning produced the best educational quality as perceived by students. Her work also led to the discovery of various levels of influence for team learning (on the individual, team and organisational level).
Lastly, to support the development of a leader identity striving towards inclusiveness and engagement of a diversity of people, she designed a faculty development programme. In this interactive and evidence-based workshop dr. Meeuwissen will draw largely on lessons learned in her PhD research and explain how to implement them in practice.
Research Development Office (RDO)
Research Development Office (RDO). During the breaks, colleagues from the Research Development Office (RDO) and Research SupportOffice Sophia (Onderzoeksbureau Sophia: OZBS) will be available for all your questions on research funding.
Center Location
The Sophia Research Days will be held at the Erasmus MC, in the "Onderwijscentrum". Workshops will be held in smaller rooms (OWR-3 and OWR-14), the keynotes will be held in the large lecture rooms (CO-2 on Thursday and the Querido Zaal on Friday), SLAM sessions will be held in CO-2 (Thursday), OWR-36 (Thursday), Querido Zaal (Friday) and drinks will be held in the Erasmus MC Onderwijscentrum Foyer (Thursday) and Westkop (Friday).

For more details on the locations, we refer you to the schedule above. The locations are mentioned between parentheses for each section of the SRD.